The ridiculously adorable internet sensation, Maru the cat, made getting out of boxes his speciality – and now he has over a gazillion YouTube views. But how to get one's non-feline noggin out of the box and into an interview room?
We all know by now that a "spray and pray" approach to applying for a job (writing a one-size-fits-all cover letter and firing that, along with a generic CV, at every type of vacancy from architect to Zen master) is not the way to make a hiring manager drop his or her sandwich in awe. What to do, then? We – and Maru – have the answers.
1. Don't neglect OR rely on the advertised application process
Few people would claim to enjoy the tedium of applying for jobs, but the interminable boredom incurred by writing a hundred bespoke cover letters is not an excuse for avoiding the process altogether.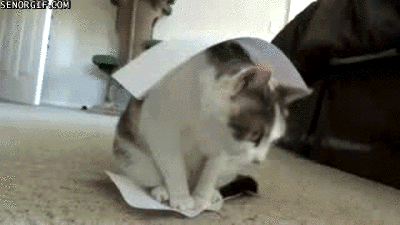 By all means, write your prospective employer an epic poem or send them cookies adorned with rice-paper effigies of your face, but if you don't follow their prescribed application instructions as well, what message does that send out about you and your work ethic?
Tiago Mateus, COO and co-founder of Sooqini, London's task marketplace, went the extra mile by developing a sales strategy for a position at a previous company before he even got to the first-round interview stage. Time-consuming, perhaps, but it spells out a significantly better return on investment than half a day spent flinging out generic job applications with all the finesse of a whirligig on a Waltzer. Needless to say, he got the job.
His recipe for success? "If you're going to be creative, make sure you also fulfil the advertised process, then you'll look awesome compared to the rest."
2. Get in with the big dogs
If you're desperate to work for a particular company, it may be worth endeavouring to make yourself known to the senior decision makers. A networking event which will is billed to be attended by the company's head honchos is the perfect opportunity to introduce yourself; once the initial contact has been made (try to get your mitts on a business card), follow up with the person in question with a view to arranging a meeting.
Thumbtags' CEO Ian Baron employed this strategy to great effect. He realised that he wanted to work for a large property and investment company after hearing the chairman speak at an event, and decided to take matters into his own hands. It took 20 attempts, but after getting into the PA's good books, he met the chairman for coffee and ended up working alongside the company's main directors. Bull. Horns. Grabbed.
Beware: if you're going to pester the C-suite for a moment of their precious and oft thinly-spread time, you need to be über-confident that you have the right skills, qualifications and personal qualities to be a good fit for the company.
3. Get a pal to vouch for you
We tend to set great store by the opinions of our friends and esteemed colleagues. They know our quirks, our foibles, how we take our morning cuppa – and the kind of people we want in our lives and in our offices. Once you've identified the company of your dreams, do some digging to ascertain whether you have anyone in common (Linkedin is a godsend here). Leveraging your mutual connections in order to obtain a solid recommendation from a buddy is a credible way to jump to the front of the queue.
But don't just take our word for it! This advice comes hot off the press from a Finance Director – namely Jamie Waldegrave of Footfall123, who reckons "the best way of stepping outside of the advertised process is to find someone you know who can introduce you to us. Anyone who comes with a personal recommendation from someone we trust take lots of the guesswork out of recruiting."
4. Pre-interview grunt work
So. You've bagged an interview, thanks to your carefully crafted cover letter, tailored CV, baked goods and/or poetry. But this thinking out of the box malarkey doesn't stop here. Now is not the time to rest on your laurels and twiddle your thumbs till D-Day; now is the time to do all the digging the interweb will allow, and get to grips with the company you want to work for and think proactively about how you can prove during the interview that you will add value to the business.
Form constructive opinions about how the company seems to operate – what are they doing well? What do you think they could perhaps do better?
Here it is in a nutshell, courtesy of KweekWeek's Mehdi Nayebi:
"A candidate who tries to go beyond the minimum required at an interview (i.e. just discussing the role and the skills needed) by suggesting ways to maybe improve our online presence, the way we communicate with our users or any other relevant feedback is always a good sign. Indeed it shows an intrinsic interest by the individual in not only the specific role at hand but the company and its environment at large."
Simples. You know you're the right person for a job – now go and let the cat out of the bag.
By Corissa Nunn, European Development at Enternships